British Type Shelties
I am a small house based breeder on the Fundy coast of New Brunswick, Canada. After seeing a Disney movie about a sheltie called "The Little Shepherd Dog of Catalina" at age eight, I was captivated by the beauty and intelligence of the breed and decided then and there that shelties were the breed for me. I became the proud owner of my first sheltie, Sasha, when I was 18, quite a number of years ago. Below is a photo of Sasha.  I acquired my husband a few years later and Sasha grudgingly agreed to share.  Sasha unfortunately developed cancer and shortly after the birth of our first child, Sasha passed away.  Over the years we have had other shelties and in 2005 we decided it was time to expand. After many litters of puppies and breeding I began to wonder why none of the dogs looked like the original sheltie. I looked far and wide in North America and visited many sites with championship dogs. They all looked more like collies than shelties. Large dogs with heavy faces. After many hours spent on line looking for the small delicate shelties that I knew had to exist, I started searching outside of North America. That led me back to the United Kingdom which makes perfect sense since that is where shelties originate. I was very fortunate to find a breeder that would sell me a puppy and our first trip to England was made. In fall of 2017 Sir Tristan joined our family. It has been the best decision I have made. He is everything I have been looking for in a sheltie for years. He is not only outstanding in looks, but his temperament and personality are also outstanding. We have since flown over to England and brought back three more "British type" shelties and we will be concentrating our breeding program on producing the true British type.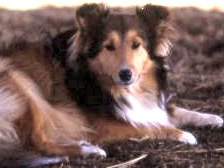 Naturally Raised Shelties
This is Sasha, my first sheltie.  After Sasha developed cancer, as well as our next sheltie, I began to question what I was doing that could be contributing. That quest continued over the years and after extensive research all of our dogs and puppies are raised as naturally as possible. They are fed a natural raw diet and are vaccine free as well as having natural treatments for parasites. I am pleased to report that I have never had dogs as healthy or happy since we have switched to a natural mindset. If you would like more information about our natural rearing methods please contact us.